Yes, we do custom carpentry!  The pictures displays some work done in Brandon's own personal home.  This project includes open shelving and lower doors with one set of upper doors.  The shelving is completely adjustable to accommodate changing decor.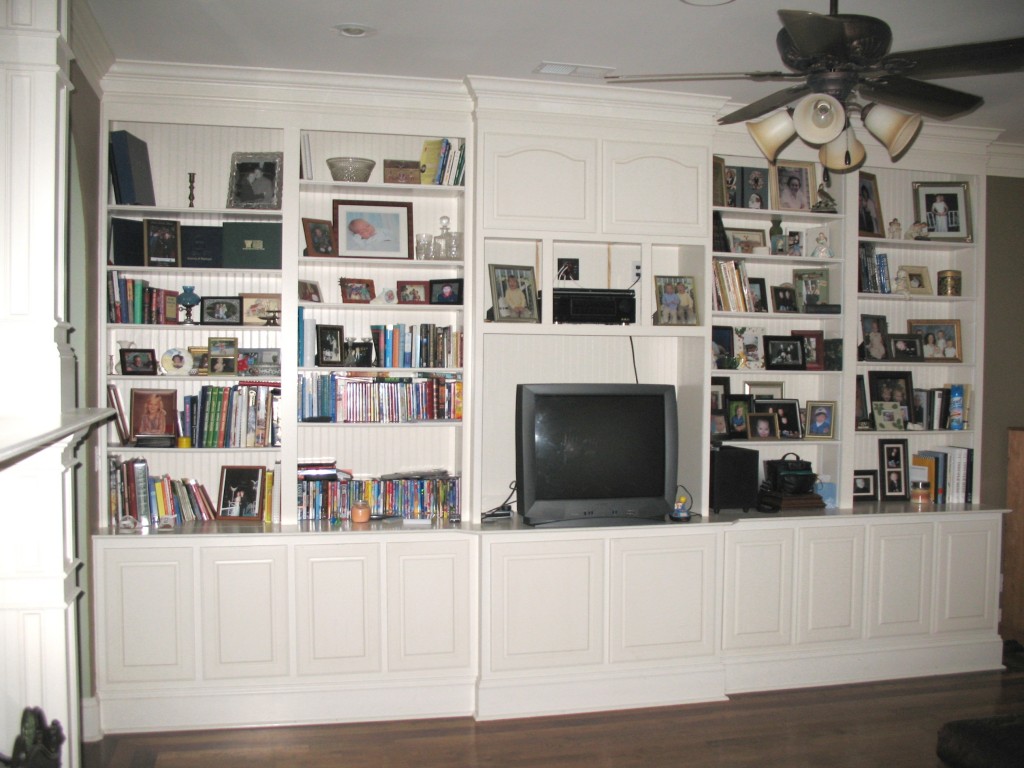 Obviously (from the picture above), displaying photos is paramount to Brandon and his family.  The 12″ deep upper shelving provides ample space for pictures and knick knacks alike.  Keeping games and puzzles organized and most importantly out of sight is also important.  The kids know right where to find their favorite things but the parents are quick to point out that, "everything has its place".  The half overlay, raised panel door style accents the other trim in the room and surrounding the fireplace and mantel.
The lower left and right portions of this family center are 18″ deep and the center unit projects 22″ into the room.  The white enamel paint provides a very durable finish.  Bead board panels line the rear of the open shelves for a dramatic and classy touch.
The fireplace surround boasts of upper and lower square columns rising from floor to ceiling.  The simulated inset panels give a majestic feel to this center piece.  A quick run of base and cap installed above the mantel yields a stunning look contrasted by the mocha colored wall paint applied to the inside remaining drywall.  Let Quinta Contractors, LLC design and fabricate some custom bookcases for you.
By:
Bryan Holloway