Tim's home was only four years old when he noticed deterioration on the exterior of his home.  The wood was clearly rotting on the cornice work of his house.  The soffit and fascia portions of his trim work had suffered the most damage from rot.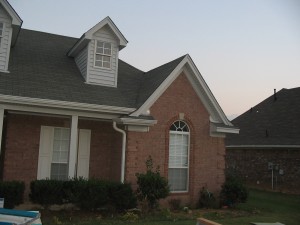 The house had two dormers on the roof which were also suffering from the elements.   The masonite siding which clad the dormers and the gables had begun to decline as well.  Quinta Contractors, LLC presented Tim with a great solution: Premium Vinyl Siding.
Vinyl siding can be applied over the existing siding which makes it a quick fix for those homes which struggle to endure the elements due to inferior cladding products installed at original construction.  Quinta supplied and installed a vinyl siding "cover all" which included covering the fascia, soffits, brick freeze boards, porch ceilings, all window and door surrounds, and the walls surfaces at the gables and dormers.  The majority of this home was brick and the addition of the vinyl siding made the home's exterior maintenence-free.
Quinta Contractors, LLC uses materials backed by limited lifetime warranties whenever possible, and this case was no exception.  Insulation was applied to the walls prior to the vinyl siding in order to seal the home as much as possible.  Tim gained the added benefit of the crisp clean look of the vinyl without any of the furture costs of repairs and painting.
By:
Bryan Holloway