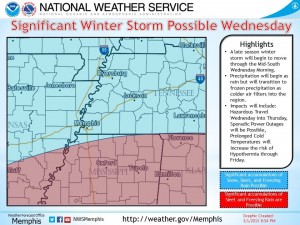 Well, no doubt you have had your fill of the snow and ice this winter.  The Memphis and Nashville areas have had several good doses of the wintery mix.  Forecasters say more snow and ice may be in store soon.
One commonly overlooked aspect of snowy weather is ice dams.  Ice dams occur on sloping roofs which get laden with snow.  The snow will begin the melting process but not come to completion before the temperature falls again and the water freezes in place on the roof.  This causes the ice to accumulate on the roof slope forming a dam.  The bigger problem occurs as new snow melt occurs and the ice prevents the normal shedding of water off the roof.
Shingles are great at shedding water under normal circumstances.  The nature of shingles being installed in a bottom to top of the slope in an overlapping fashion, allows for water to roll right down the slope; it's like water off a duck's back, literally.  Let one of these ice dams set up on your roof and then the water can be allowed to backup and flow under the shingle edge and potentially flow over the wood roof decking and create a place of intrusion into your home's interior.
Quinta Contractors, LLC currently uses Ice and Water Shield in all roof valleys and around trouble areas such as a chimney.  Additionally, we install 15# felt underlayment over all roof decking before we install the first shingle of a replacement roof.  There are several other options for preventing the damage caused by ice dams, but typically our region of the country does not have issues with prolonged and heavy snow loads on roofs and most roofs in the Memphis and Nashville areas have a sufficient roof pitch (or roof slope) to avoid this excess build up of ice.
Whether you do experience suspected damage caused by an ice dam this winter or storm damage to your roof, call Quinta.  Your roof is one of the most important components protecting you and your home from the outside elements.  Quinta offers roof repairs and replacement roofing services to our clients in Memphis, Cordova, Germantown, Collierville, Bartlett, Eads, Southaven, Olive Branch, Hernando, Nesbit, and Horn Lake in the Greater Memphis Area and Brentwood, Franklin, Nashville, Spring Hill, and Hermitage in the Greater Nashville Area.
By:
Bryan Holloway