Is your kitchen looking a little dated to you?  Are you tired of the flaws in your builder's grade cabinets or have you grown weary of replacing the failing hinges and hardware? Perhaps you believe there just has to be a more functional layout for your kitchen.  These are all standard reasons given by our clients during the initial interview regarding the remodeling of their kitchen.
So, lets focus on one element of the kitchen, granted a big one, kitchen cabinets.  All to often home owners find that the cabinets selected by their home's builder are just not satisfactory.  The cabinet industry has made many improvements in the last decade or decades (depending on the age of your home).  We now can include options like roll out shelves and drawer units which are large enough for pots and pans, talk about getting organized!
We have the ability now, to add matching end panels whether you choose full over lay or half overlay doors and drawers.  Accent lighting can be integral to the cabinets and even be used behind glass to draw attention to your individual decor.  There are spice racks and appliance garages which can be included in the design.  Wine racks and plate racks are great as accents to your new cabinetry.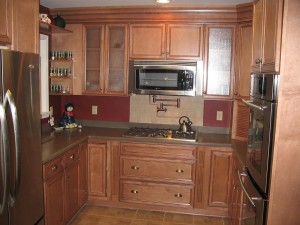 Okay, envisioning a remodeled kitchen is enticing, but where do you begin?  Contacting Quinta Contractors, LLC for an appointment is your best starting place.  We will schedule a time to meet with you (and your spouse) in order to gain critical input for the design of your new kitchen.  The initial consultation takes one to two hours in order for us to gain a proper scope of the work to be completed.
You know you want it; you just need a plan.  The benefits of using a design/ build firm, such as Quinta Contractors, LLC, to provide remodeling services allows you to entrust the process to qualified professionals.  The secondary meeting is comprised of providing you with a detailed scope of work, 3-D rendering of the new layout for your cabinets, and an estimated cost for the project.  You will have a choice in the species and finish that will adorn your new kitchen cabinets.  The functioning side of the cabinet design also allows you an abundance of options and we will guide you through the process from start to completion.
Quinta installs each set of cabinets with great concern for the details.   After all, the finished appearance of your cabinets will be the cornerstone of your kitchen's appeal to you, your family, and your friends.  The upgraded quality will prove to enhance the future selling features of your home.  Why delay, when you could be enjoying the new features and benefits of a remodeled kitchen today.  Give us a call and we will make your dream kitchen a reality!
By:
Bryan Holloway