Keith had been in his Collierville home for nearly 4 years prior to determining it was time for an overhaul on the master bathroom.  The footprint of his 1987 constructed home remained the same with the exception of an enlarged shower.  The man-made marble bath tub was retained as it was in as new condition and its color was complementary to the newly selected color scheme.  A reduced step was added to the front of the tub in increase the flow of foot traffic in the room.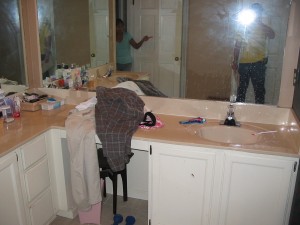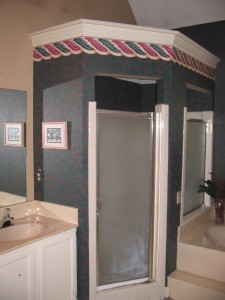 The original shower was more reminiscent of a darken cave as it lacked any natural light and the dimensions were very diminished.  A failed shower pan was revealed through the constant trace presence of mold that just could not be cleaned away.  These thick rubber pan liners often fail within 10-15 years of construction.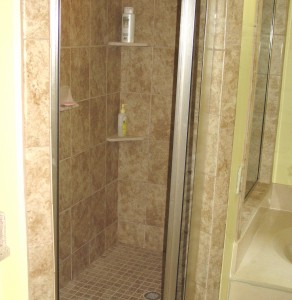 The shower valve (or faucet) and sink faucets were upgraded from polished chromed to brushed nickel finish.  A clear glass interior window with brushed nickel frame was added between the larger shower and bath tub.  Framing of this new opening allowed for a channel to be above this window for increased air flow to the shower.  A properly sealed shower can light was installed to increase the lighting.

Cabinets After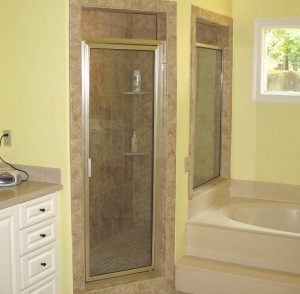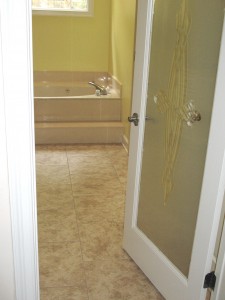 An elegant glass door was feature as the entry from the master bedroom to this remodeled master bath room.  The white cabinets offered a strong contrast to the solid surface counter tops which coordinated with the tile flooring.  Over all this project worked to satisfy the needs and desires of the homeowner and Quinta Contractors, LLC gained another well pleased client.
By: Bryan Holloway