Paula and husband Jeff had already used Quinta Contractors, LLC for projects such as vinyl replacement windows and replacing a storm door.  This time the request was a bit larger, gutting the master bathroom and starting the design with a clean slate.  Paula contacted Quinta and requested that Bryan design her new bathroom.
The ideas would need to be bold and striking in order to transform the outdated bathroom.  The existing bathroom housed what we in the business refer to as a "cave shower", a small and dark 3 foot by 3 foot square shower with a fir down which created a lowered ceiling.
These showers often become laden with mold and mildew.  The cause of these unwanted guest are two fold: the shower pan (a thick rubberized liner) under the shower floor tile begins to leak and the second problem is the lack of natural light and air ventilation for the shower stall.  The lack of room to move freely in these types showers is also a constant source of frustration for their owners.  Once the shower pan has failed repair is not really an option; replacement is the only fix for a damaged shower pan.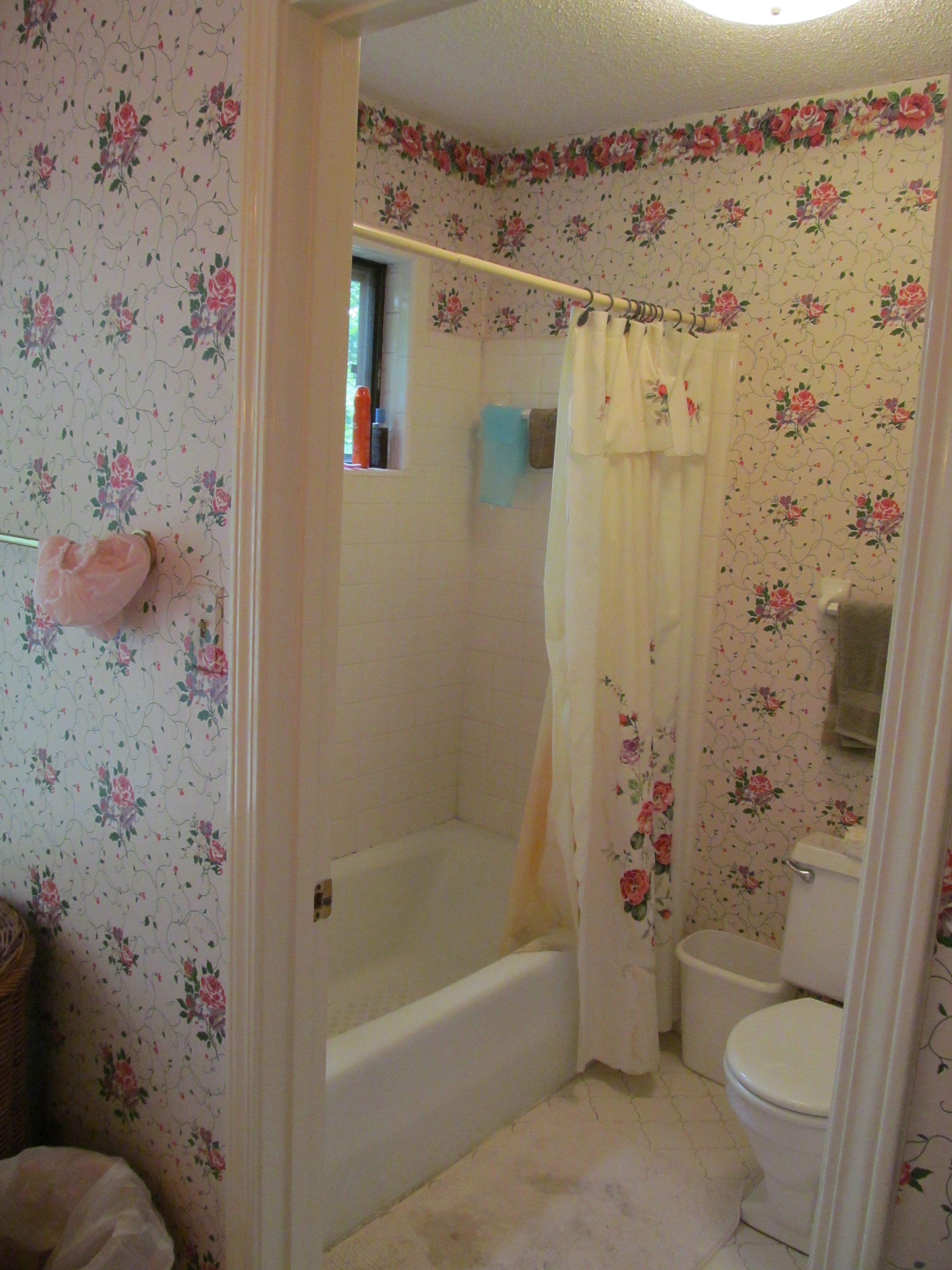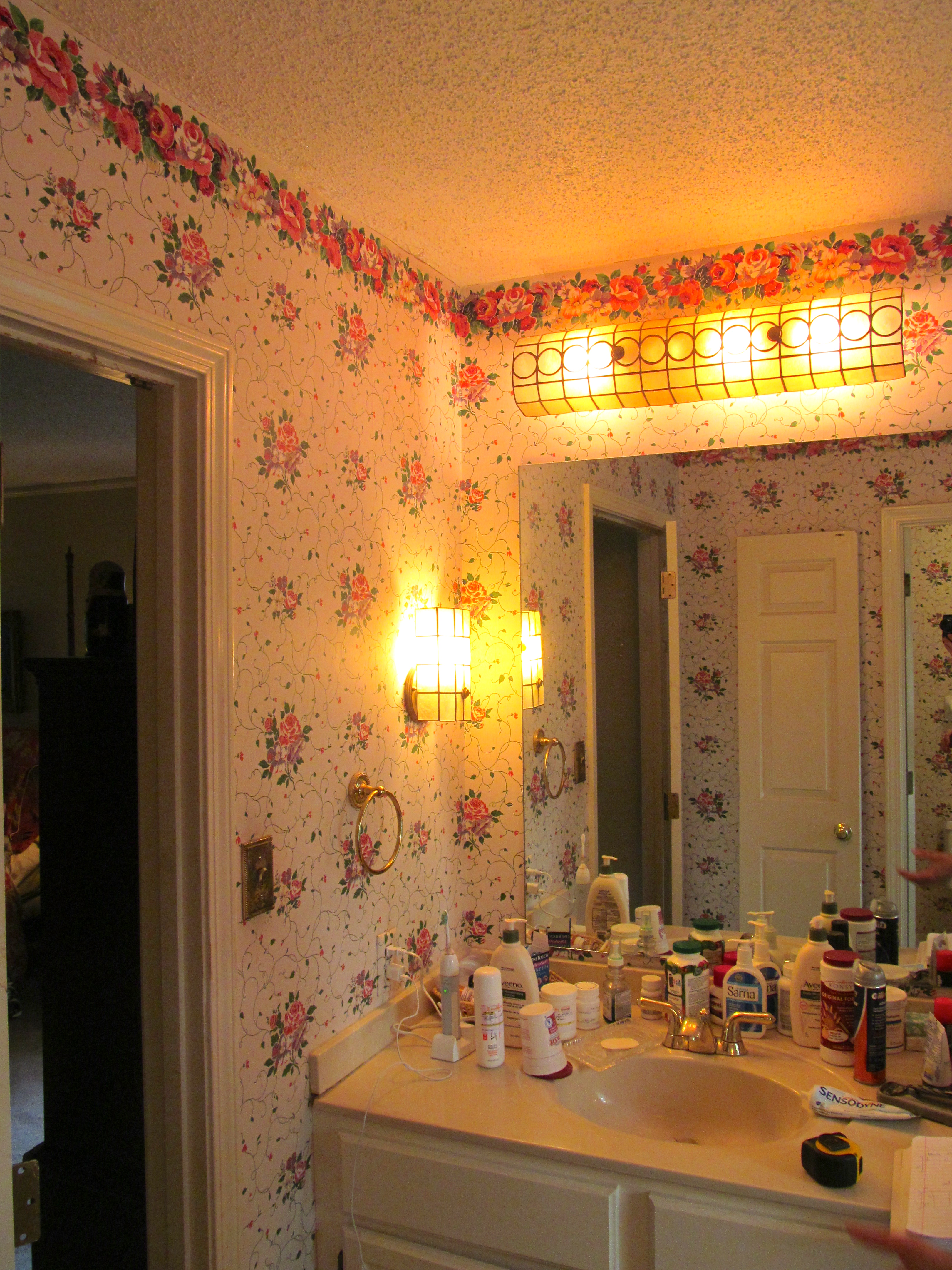 Bryan's design would require removing a non load bearing wall separating the double vanity area from the bath tub, shower, and commode section.   The floral wallpaper was a constant reminder of days gone by (most of our remodels do not include wallpaper as a part of the design).  The small glossy white floor tiles required an abundance of grout lines.  The bathroom actually was host to a stand alone shower and a bath tub/ shower combo.   Bryan and homeowner, Paula, were in agreement the bathroom lacked adequate storage and had some wasted space that needed to be reclaimed.
So bring on the creativity, please!
 Once the wall was removed from the foot print or flooring plan, the designer had a new and empty canvass for the design.  Eliminating the stand up shower was a must.  The tub/ shower combo wasn't needed or useful any longer either.  Bryan created a concept board revealing the new foot print (including a 4 foot by 6 foot shower with frameless glass walls), the new vanity, granite counter tops and shower seat, sink and shower faucets, wall coverings, lighting fixtures, floor and shower floor tile, the addition of crown molding and custom cabinets.  Paula was elated to see the possibilities for her new bath.
After some minor changes to the over all design concept, the demolition began.  Out with the old and in with the new.  Paula's budget and expectationswere ultimately satisfied with another custom renovation performed by the crews at Quinta Contractors, LLC.  She  was pleased to find herself in a new bathroom which met her needs and definitely provided her a bathroom to be proud of for years to come.
Choosing a licensed, bonded, and insured design build firm such as Quinta Contractors, LLC for your bathroom and kitchen renovations ensures that you too, can see your remodeling dreams come true!  We provide quality service to both Middle Tennessee and West Tennessee as well as North Mississippi; so, wherever you call home Nashville, Murfreesboro, Spring Hill, Franklin, Brentwood, Memphis, Collierville, Cordova, Germantown, Southaven, Olive Branch, Hernando, or even Nesbit we are ready to serve you with care and professionalism in your home.
by: Bryan Holloway