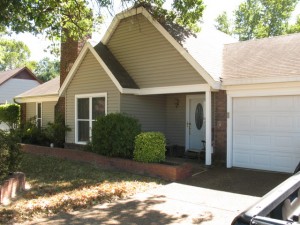 Jack's house was built in 1981 and was clad in masonite siding. As is so often the case, even his best efforts to keep his home's exterior painted regularly, were not preventing the deterioration to his siding. Removing the existing siding to replace it would have come with a price tag Jack just couldn't afford.
Quinta Contractors, LLC was able to offer him a solution which did fit right in with his budget. The premium vinyl siding we supplied and installed fit right over his
existing siding. The phrase "cover the wood and make it look good", proved true yet again.
His new vinyl siding came with a limited lifetime warranty from the manufacturer
covering everything from chipping, pealing, to fading. The bright white he
chose for the trim on the fascia and door and window surrounds provided him
just the right contrast to the gray on the walls.
The "maintenance free" aspect of the vinyl siding is what really sold him on the idea. Knowing he would not have to drag out the ladders to paint it himself or pay for continual costly repairs, gave him peace of mind. Best yet, his home was transformed into one of the best looking ones on the block!
By:
Bryan Holloway