Once again, thanks be to the home show.  That is exactly where we met Paul and Linda.  Paul approached me with plans in hand.  As I recall, he had attended the show just for the cause of finding a contractor to construct a room for the pool he had purchased.
Saying that it was simply a pool would be putting it mildly.  The pool which arrived in crates (very large crates) at his home, was approximately 8′ x 15′ once constructed and was 5′ deep at its deepest point.  The pool included a motor which generates waves to simulate lap swimming.  A heater was ordered for the unit as well so it could also double as a hot tub.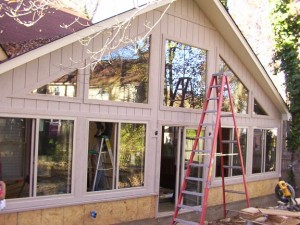 Paul's desire was to construct an L-shaped room to house his new pool.  Quinta Contractors, LLC was more than willing to tackle such a project.  Blueprints were finalized and construction began.  The room other than housing the pool, was designed with a small sitting area perpendicular to the placement of the pool.
The carpenters at Quinta installed wood lap siding for the interior wall coverings.  The pool was skirted with wood. A deck was constructed on all four sides and topped with a blue-green mosaic tile.  Additional concrete was poured at the room's exterior to provide a washed gravel patio slab.
Premium vinyl windows were selected to line both the wall along side the pool and the front which was vaulted, creating one amazing view.  The operable windows were side sliding and the remaining windows including the trapezoids were all fixed windows.   An additional HVAC unit provided the heating and cooling to keep the room comfortable year round. The insulated windows were selected to make the climate control process even easier.  Humidity would be an obvious concern from the heated pool so an evacuation fan was installed with enough CFMs (cubic feet per minute) to quickly exhaust the humidity as needed to keep the room comfortable.
by:
Bryan Holloway